Spring is a season of renewal, and it's the perfect time to bring some fresh energy into your home. With Easter just around the corner, it's also an ideal opportunity to add some festive touches to your decor. Whether you're hosting an Easter brunch or simply looking to brighten up your living space, here are some ideas for spring and Easter decorating in your home.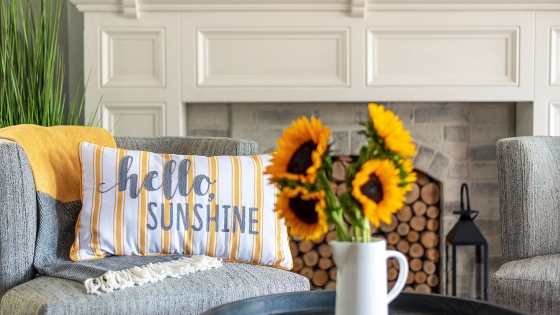 Add pops of pastel colors
One of the easiest ways to embrace the season is by incorporating soft pastel colors into your decor. Swap out heavy winter fabrics and accessories. Think about adding throw pillows, table runners, or curtains in shades of pink, yellow, and green. You could also bring in fresh flowers or potted plants, which not only add color but also improve indoor air quality.
Display Easter-themed decor
If you celebrate Easter, you can add some festive touches to your home with themed decorations. Decorating for Easter can be as simple or elaborate as you want. You can use modern Easter decorations like eggs, bunnies and lambs, in a decorative bowl or tray. Or choose more traditional items such as Easter baskets and eggs made from ceramic or plastic. Display these items on shelves, tables or mantels.
Use natural materials
Spring is all about embracing the beauty of nature, so incorporating natural materials into your decor is a great way to bring that energy indoors. Consider using woven baskets, wooden trays, or ceramic vases to display your decorations. You could also add some natural textures with a jute rug or wicker furniture.
Play with patterns
Another way to add visual interest to your decor is by incorporating playful patterns. Think about using a floral tablecloth or adding a gingham throw pillow to your sofa. Mixing and matching different patterns can create a fun and whimsical vibe in your home.
Incorporate seasonal scents
Don't forget to engage your sense of smell when decorating for spring and Easter. Consider using scented candles or diffusers in scents like lavender, jasmine, or lemon to create a fresh and uplifting atmosphere in your home.
Hang a spring-inspired wreath
A wreath is a great way to add some color and texture to the exterior of your home. A wreath is an easy and versatile way to decorate for any season. For spring and Easter, consider a wreath made of pastel-colored flowers, eggs, or bunnies. You can hang it on your front door to greet guests or inside your home to add a touch of spring to your decor.
Create a festive centerpiece
Dress up your dining table with Easter-themed placemats, napkins, and table runners.A festive centerpiece can be a great way to add some Easter cheer to your home. You can create a centerpiece by filling a glass jar or vase with colorful Easter eggs or by arranging some flowers and greenery around a bunny or chick figurine. If you're feeling crafty, you can even create a DIY Easter egg tree or wreath.
Add fresh flowers
One of the easiest and most effective ways to bring spring into your home is by adding fresh flowers. Tulips, daffodils, and hyacinths are some of the classic spring blooms that you can incorporate into your decor. Arrange them in vases or pitchers, and place them on your kitchen table, mantle, or windowsill for a pop of color.
There are many fun and easy ways to decorate your home for Easter and Spring. Whether you choose to add fresh flowers, create a festive centerpiece, hang a wreath, incorporate bunny decor, or add colorful Easter eggs, these decorating ideas will infuse your home with the spirit of the season. Happy decorating!
I hope these spring home decor ideas have inspired you to add some color to your life! If you want to keep up with my latest posts, make sure you follow me on social media.