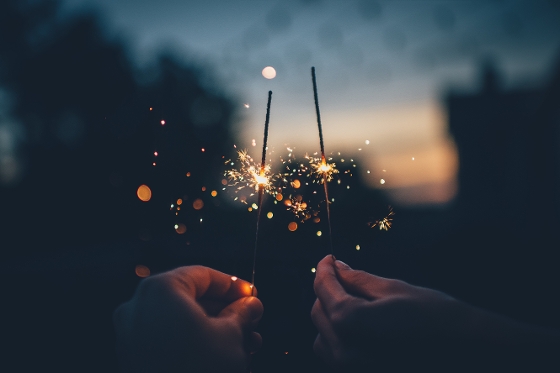 If your New Year's resolutions are feeling a bit stale this year, you're in luck! I've rounded up some of my favorite new ways to make the most of this exciting time of year.
Cut back on something that you'd like to do less of.
I'm not only talking about food or alcohol, though those are both good options. Be it video games, social media, or television shows, there's no better time than the new year to make a change! This is a great way to start off the year feeling refreshed and reinvigorated. It's a great opportunity to cut back on something that you'd like to do less of. And this could give us more time to spend with family and friends or just have a little more time each day to relax.
Finally get around to reading a book that's been on your list for ages.
It's easy to get distracted by the obligations of work and family, but if you want to read more this year, make sure you find some time for it. Try setting aside an hour or two each week to read a book that has been on your list for ages. If you don't know where to start, ask friends or family members what they've been reading lately—you may find some great recommendations!
Start a new hobby.
Hobbies can help you stay occupied and active. Try taking up a new hobby this year—it could be anything from gardening to ballroom dancing! You might even meet new people and make some friends along the way, which is always nice (and helpful).
Think up fun ways to celebrate your wins.
Did you meet a goal this month? Your entire life? Celebrate that win! You deserve to throw a party for yourself and your accomplishments. Make it an event worth celebrating, with something special planned—a trip, an afternoon at the spa, or whatever else brings happiness to your heart. If there's someone in your life who has been instrumental in helping you achieve success (like a mentor or parent), consider inviting them along so they can share in the joy of this momentous occasion. Maybe now is the time to treat yourself!
Challenge yourself to try one new thing each week.
Make the usual unusual. You can try something you've never done before, like taking a class or going to a museum. Or you can visit a new place, like the zoo or an amusement park. Or maybe you've always wanted to learn how to play an instrument but think you're not very good at music—here's your chance! If these ideas aren't your cup of tea (or rather, pint of beer), then perhaps think about doing something that challenges your physical abilities instead: play sports with friends or go for hikes with family members who live nearby.
There are lots of ways that this resolution could lead toward self-improvement—so don't be afraid if things start getting tough! Just remember: "If at first you don't succeed..."
Get your photo taken in five interesting places
There's
no reason to wait for the perfect vacation to take a great selfie. Instead, make it a goal to do some of your best poses for the camera at home or on the go—you might even discover new places that you'd like to visit! Start by picking out five spots that are near you and think about what makes them interesting: A historical spot? An art gallery? A nature trail? A local landmark? Once you've decided on the five places that will make for the best photos, go ahead and take some pictures. Try to get creative with your poses—maybe try a funny one or two!
Try a new food each week
One of the best ways to get out of a rut is to try something new. A great way to do this is by trying a new food each week, no matter how small or insignificant it seems. Try a different cuisine, check out a new restaurant, make something you've never tried before in your kitchen, or try a new cooking method with which you're unfamiliar. You could even challenge yourself by trying a cooking tool that will take some practice before you master it! Maybe there's an ingredient available in your area that's not common where you live—go buy some and see if it tastes good!
Learn something you never learned as a child
Maybe you never learned how to ride a bike as a child. Maybe you were afraid of the water and didn't want to learn how to swim. Maybe your parents wouldn't let you play with toy guns and skateboards (it's okay, we get it). Whatever your reason, there are plenty of easy ways to pick up new skills this year.
Learning new things is fun, and it can also help you feel more empowered. If you've ever wanted to learn how to do something but thought it was too hard or not worth the effort, it's never too late.
So, have you made any New Year's Resolutions for 2023? If not, what are some things you think about changing in the new year?